Are Psychedelics Theologically Significant for Judaism? | Harvard Divinity School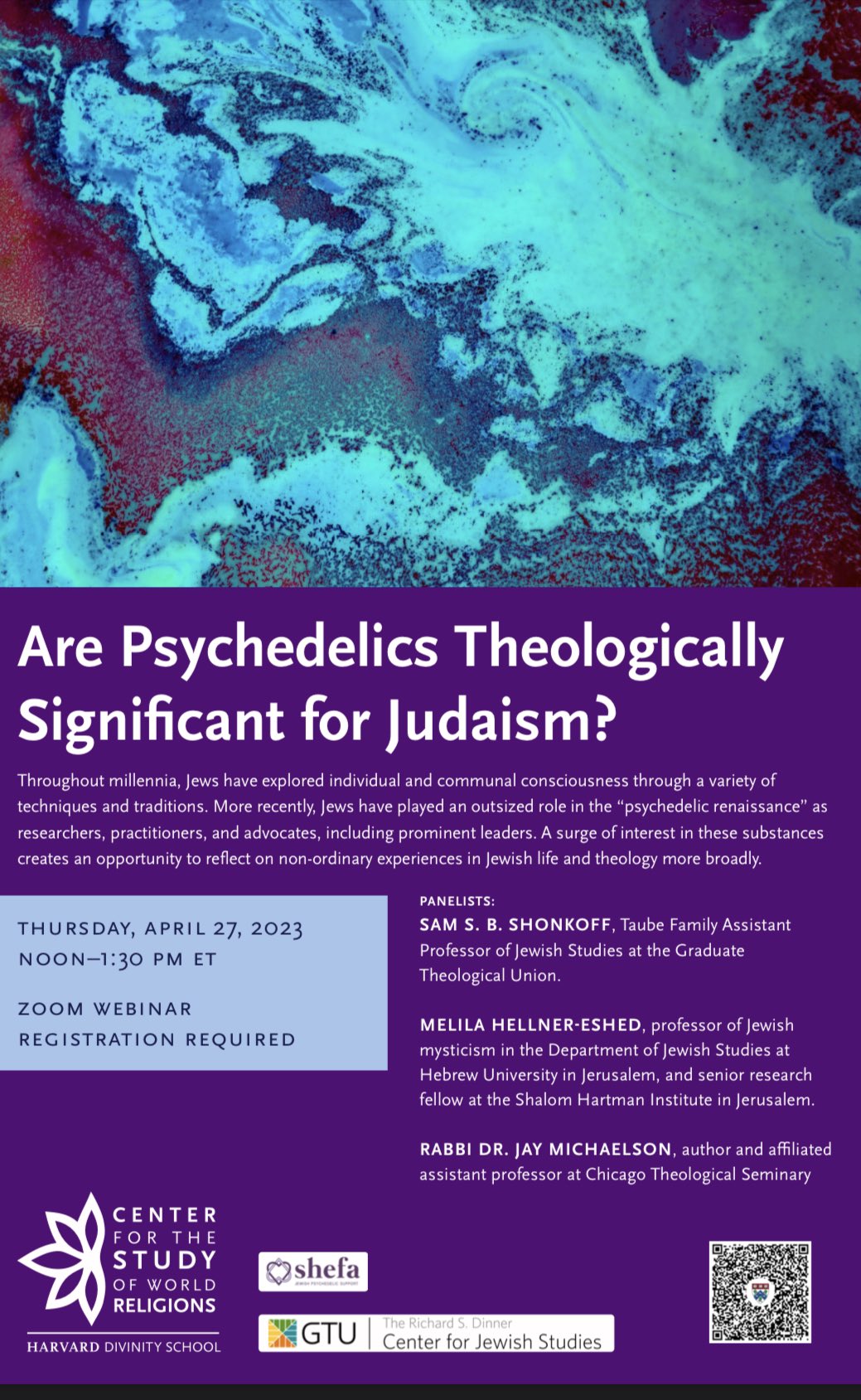 Throughout millennia, Jews have explored individual and communal consciousness through a variety of techniques and traditions. More recently, Jews have played an outsized role in the "psychedelic renaissance" as researchers, practitioners, and advocates, including prominent leaders. A surge of interest in these substances creates an opportunity to reflect on non-ordinary experiences in Jewish life and theology more broadly. To what extent have altered states of consciousness been theologically significant for Jewish theology and practice?  In what ways, if at all, have ingestions of psychoactive substances transformed Jewish theology? And how might this all relate to contemporary Jewish experiments with psychedelics?  In this panel, such questions will animate discussion among leading scholars of Jewish mysticism. Through considerations of historical, phenomenological, and hermeneutical dimensions of Jewish theology, these scholars will reflect together on the cultural significance of Jewish psychedelia today.
Sam S. B. Shonkoff is the Taube Family Assistant Professor of Jewish Studies at the Graduate Theological Union. His research focuses on modern Jewish modes of spirituality, particularly in German-Jewish, Hasidic, and neo-Hasidic contexts. He is co-editor (with Ariel Mayse) of Hasidism: Writings on Devotion, Community and Life in the Modern World, editor of Martin Buber: His Intellectual and Scholarly Legacy.
Melila Hellner-Eshed is a professor of Jewish mysticism in the Department of Jewish Studies at Hebrew University in Jerusalem, as well as a senior research fellow at the Shalom Hartman Institute in Jerusalem. She is a member of the faculty of the Institute for Jewish Spirituality and is active in Sulha, an Israeli-Palestinian reconciliation project. She is the author of A River Flows from Eden: TheLanguage of Mystical Experience in the Zohar.
Rabbi Dr. Jay Michaelson is an affiliated assistant professor at Chicago Theological Seminary and the author of nine books on Judaism and contemplative practice. His most recent, The Heresy of Jacob Frank: From Jewish Messianism to Esoteric Myth, won the 2022 National Jewish Book Award. Outside the academy, Jay has been writing about Judaism and psychedelics for fifteen years and taught meditation in Jewish, Buddhist, and secular contexts for twenty years.