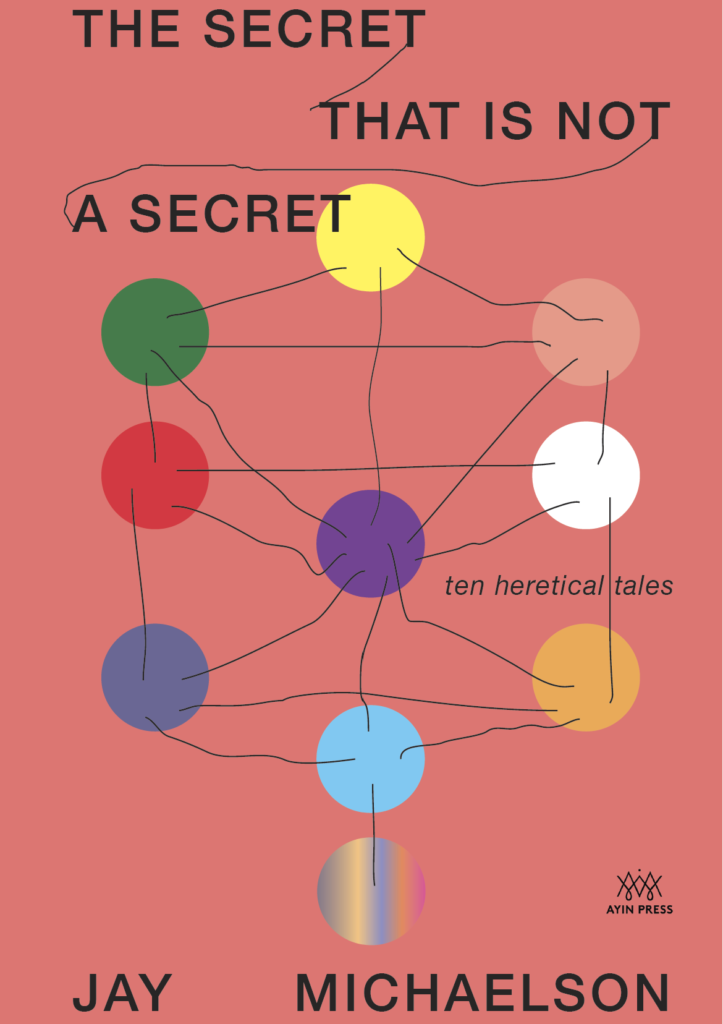 The Secret that is not a Secret: Ten Heretical Tales
The Secret That is Not a Secret is the first book of fiction by Jay Michaelson, winner of the National Jewish Book Award.
A collection of interconnected short stories, it invites you into a hidden world of faith, desire, transgression, and revelation. From a Hasidic woman tormented by her husband's long beard to a closeted gay man repenting of his sins in the mikva, its inhabitants are torn between the transcendent and the earthly, seen and unseen.
Order your copy here:
Read Excerpts from The Secret that is Not a Secret
The first story in the collection, The Beard, was published in Ayin Press's Tardema magazine here.
The Tales
1.     KETER                 The Beard
2.     HOKHMAH        The Mikva of Ben Sira's Transmigration
3.     BINAH                 The Verse
4.      HESED               The Night Watchman and the Hundred Thousand Golems
5.      GEVURAH         The Ascent of Chana Rivka Kornfeld
6.      TIFERET            The Secrets of Nakedness
7.      NETZACH          The Acacia Tree
8.      HOD                    The Transfiguration
9.      YESOD                The Sabbatean of Central Park
10.    MALKHUT         The Enlightenment of Rabbi Yosef of Chernobyl
Advance Praise
"This book is mesmerizing and profound. I was already a fan of Jay Michaelson's nonfiction, but this book brings his unique theological and spiritual perspectives alive on an earthy, human level. His characters' lives are sometimes troubled, sometimes angst-filled, but always deeply examined, and in some cases even enlightened. This is a book that will make you think and feel."
—Haviva Ner-David, author of To Die in Secret and Life on the Fringes
"Improvisation and transformation mark the midrashic imagination in Jewish religious and literary culture, and the Kabbalistic orientation upon which it is based. Jay Michaelson's The Secret That Is Not a Secret: Ten Heretical Tales demonstrates allegiance to this long-standing approach. What makes these stories heretical is their undeniable traditional nature, and what makes them traditional is their incontestable heretical nature. They compel the reader to imagine the connection between the theosophic mysteries of the divine and the psychological-emotional complexities of the mundane, the sacred and the profane, the holy and the erotic. Perhaps this is the esoteric import of the title, for what after all is a secret that is no secret but the most profound secret that can be divulged only to the extent that it is withheld? The fiction artfully woven by Michaelson beckons the reader on the endless journey to uncover what must be recovered."
—Elliot R. Wolfson, Marsha and Jay Glazer Chair of Jewish Studies at University of California, Santa Barbara
"Jay Michaelson's parable-esque short stories have a sizable dash of Isaac Bashevis Singer and a substantial dash of the queer modern mystic. Immersed in Jewish tradition and folklore, these stories are both learned and sensually detailed, containing humor, eros, magic, and unexpected heartbreak, and opening unexpected windows to our humanness. From tales of table-golems to anti-queer verses that disappear from the Torah, there's reverence here and liberating irreverence, couched in excellent, engaging prose. One of Michaelson's characters names his personal mystical revelations as a "re-enchantment of the earth." This book offers narratives that re-enchant the body and soul."
—Rabbi Jill Hammer, author of Return to the Place: The Magic, Meditation, and Mystery of Sefer Yetzirah
"In Jay Michaelson's heartfelt story collection The Secret That Is Not a Secret, characters struggle valiantly and memorably to reconcile the apparent contradictions of the mystical and material realms of existence. Suffused with both probing intellect and deep emotion, these stories invite readers to embark upon a spiritual quest that's refreshingly grounded in the profound realities of our daily lives."
—Aaron Hamburger, author of Hotel Cuba
"Sylvia Wynter, Jamaican-born essayist, literary critic, and philosopher of Black studies, once said that at the end of the day, all we have is stories. Stories draw a searing line from the mind to the heart, where lofty ideas meet carnal desire. Jay Michelson's The Secret That Is Not a Secret tells ten heretical tales—stories in a Wynterean fashion—of desire framed in the ten luminous emanations where the lines separating truth and heresy are blurred and inverted. Michaelson has given us a work that sparkles with light while living in the shadows of the darkness that accompanies all light. It is a gift to all of us who struggle with the sacred while dwelling in spaces where the sacred refuses to go."
—Shaul Magid, Professor of Jewish Studies at Dartmouth College, and author of Piety and Rebellion: Essays in Hasidism and The Necessity of Exile
"Jay Michaelson's inventive and daring collection follows lost souls in Israel and New York, desperate for enlightenment. The stories are queer but universal, skeptical but reverent, intellectually rigorous but full of heart—and with sudden, astonishing turns, they reach transcendence. I can't stop thinking about this book!"
—Jonathan Vatner, author of Carnegie Hill and The Bridesmaids' Union
"Sacred and profane, erudite and engaging, queer and questioning, Jay Michaelson's The Secret That Is Not a Secret challenges Jewish traditions and imagines its own sort of transcendence. These remarkable stories cleave to God, the flesh, and what it means to live in a world full of hidden secrets."
—Jonathan Papernick, author of The Ascent of Eli Israel
"This newest addition to the well of Queer Yiddishkeit warms my heart and mind. Rabbi Michaelson's ten short stories are like a collaboration between queerness, Kabbalah, mysticism, rebellion, and a deeply Queer Judaism. This book might be fiction, but its awe-inspiring messages are real."
—Rabbi Abby C. Stein, author of Becoming Eve: My Journey from Ultra-Orthodox Rabbi to Transgender Woman