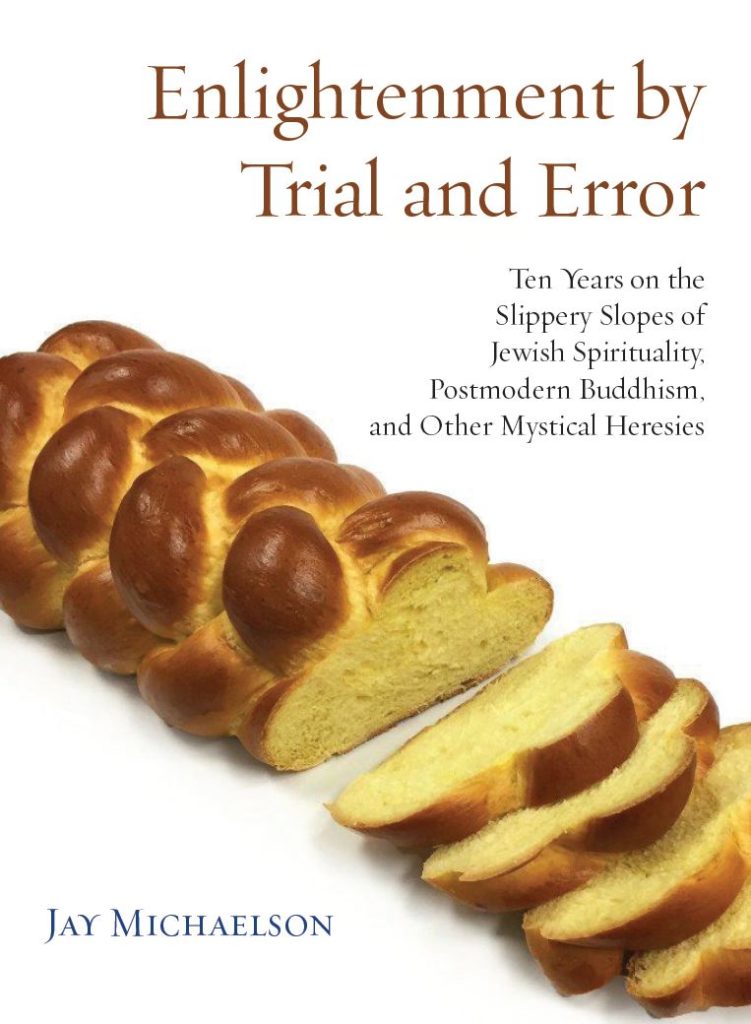 Enlightenment by Trial and Error
Ten Years on the Slippery Slopes of Jewish Spirituality, Postmodern Buddhism, and Other Mystical Heresies
Order here:
Today, Rabbi Dr. Jay Michaelson is a rabbi, a well-known meditation teacher, and a weekly columnist read by a quarter million readers per month.
But not long ago, Jay was a young spiritual seeker, pursuing mysticism (and even enlightenment) with an open heart and restless intellectual curiosity. Drawn from essays written over a ten-year period of questioning and exploration, this book is a unique record of the spiritual search, from the perspective of someone who made plenty of mistakes along the way.
"There are plenty of 'spiritual books out there," Michaelson writes in the book's introduction. "But when I was starting out, I would have loved a book by someone still searching and figuring stuff out; still highly skeptical of the things people call 'spiritual' but equally skeptical of the skeptics; and still questioning everything along the way. So now I've written that book."
Press
Review of Enlightenment by Trial and Error on Jewschool.com
Review of Enlightenment by Trial and Error by Liza Achilles
Conversation with Jay about Enlightenment by Trial and Error on State of Belief
Conversation with Jay about Enlightenment by Trial and Error with Dan Harris at The Rubin Museum of Art
Conversation with Jay about Enlightenment by Trial and Error with Robert Wright
Praise for Enlightenment by Trial and Error
Lonely and in love, ecstatically high and despairing , in Jewish prayer and Buddhist meditation, Jay Michaelson shows us his path to enlightenment with all its trials and errors is exactly what it needs to be.
— Rodger Kamenetz, author of The Jew in the Lotus 
Jay Michaelson is a true polymath.  He brings wide-ranging knowledge and learning to these essays on very challenging issues.  He has been a leader in helping us to change our consciousness.
— Rabbi David Cooper, author, God is a Verb: Kabbalah and the Practice of Mystical Judaism
The essays in this book map out the development of a contemporary mystic: the transformations, doubts, convictions, joys and sorrows that have lined his spiritual path through a variety of life transitions.  Michaelson's spiritual resources are Jewish, Buddhist, queer, earth-based, scientific and entirely his own, and he applies these resources to a real and complex world the reader will immediately recognize. Ultimately, what Michaelson counsels — from experience rather than dogma– is compassion, self-awareness, mindfulness, and love.  It's hard to see what could be more needed in these changing times.
—Rabbi Jill Hammer, author of The Jewish Book of Days
Do not read Enlightenment by Trial and Error if you do not appreciate questions as well as declarations, searching as well as finding, and doubts as well as beliefs.  With his captivating writing-skills and generously-shared personal experiences, Jay Michaelson demonstrates the importance of vulnerability as a pathway to new discoveries about the meaning of religion and inspires a life-enhancing commitment to a depth of integrity that cherishes change as well as security. Here is a book that helps its readers find truths where we never have even looked for truth before and to feel an impulse to dance for joy when and where, previously, we have heard no music.
—Rev. Welton Gaddy, host, State of Belief podcast
Enlightenment by Trial and Error is an honest, real, sober, revealing, and validating compendium of reflections on the spiritual life. As he writes on topics as provocative and edgy as God in Drag, How Not to Believe in God, and Ayahuasca and Kabbalah, Michaelson shares a compelling window into his spiritual journey toward awakening, one that coaxes us onward on our own spiritual path while simultaneously reminding us that the way is dotted with pitfalls and missteps as well as mind-blowing insights that will change your life and way of being forever. You will find no romanticism or idealism here; only the naked truth about what it means to live an authentic, non-dogmatic, human spiritual life—one that welcomes and honors confusion, questioning, irreverence, iconoclasm, and sensuality alongside courage, compassion, and the sublime. Michaelson is the experienced, relatable, down-to-earth, wise teacher-practitioner we all need.
—Rabbi Sam Feinsmith, Program Director, The Institute for Jewish Spirituality
Jay Michaelson is a jewel. In Enlightenment by Trial and Error, he invites us to walk with him, shoulder to shoulder, with his rigorous mind and wide ranging experiences. Through sharing his heart-breaks and confusion, incisive honesty, and his ability to have humor in the midst of it all, this book is an act of generosity inviting us into the unfolding of love.
—Sensei Koshin Paley Ellison, author of Wholehearted: Slow Down, Help Out, Wake Up
Like a time-lapse film following a rose from seed to blossom, Jay Michaelson's new book offers a rare peek into the elusive art of human flourishing. Not without its smiles and smirks, his unique journey as recorded in a decade's worth of essays is a moving and serious invitation for modern seekers into the deeper waters of the mystic, hardwired for our complicated modern realities. Beyond the beaten binary boundaries of Jewish and Pagan, soul and body, Queer and religious, Michaelson weaves a web of possibilities for an honest, helpful, present, life.
—Rabbi Amichai Lau-Lavie, founder, LabShul
In these essays, Jay Michaelson serves as an expert guide to paths of awakening he explored over many years while he merged his professions and passions (scholar, journalist, teacher; mysticism, meditation, modernity). With curiosity, vulnerability and skill, he leads us through myriad milieus offering poetic inquiries and poignant insights along the way. Enlightenment by Trial and Error is an original, wise, and powerful exploration for all seekers on a spiritual journey.
—Sebene Selassie, former director, New York Insight, and leading insight meditation teacher
To dance the love supreme deep in the desert of Burning Man, to sit with the stilling voice of silence at a Buddhist retreat— for many Jews this is nothing but heresy. And yet, the true heresy of contemporary Jewish living is to know God in all our ways, in every moment to fall in love again with that internal divine spark we mask so well. Seekers from many tribes and tribulations will appreciate this decade in Michaelson's spiritual diary, at once curious and critical, naïve and neurotic—all necessary qualia to pack in your rucksack for a rough guide to living within God. This bouquet of succinct words that first appeared in the mainstream media, from Zeek to the Forward conjoined with other unpublished writings, waft with a familiar scent— that aroma of infinity framing an exoteric path of waking up his readers to the daily truth hidden in plain sight, where all along there was an esoteric love song singing itself. Get ready for a radical unraveling of your preconceptions about religion, an unconventional uncoiling of your resistance to spiritual practice, and a sweet unknowing so as to simply be in this moment.
—Rabbi Dr. Aubrey L. Glazer (senior rabbi, Shaare Zion, Montreal; director, Panui, San Francisco), author of God Knows, Everything is Broken: The Great (Gnostic) Americana Songbook of Bob Dylan
In "Enlightenment by Trial and Error", Jay Michaelson offers us an honest, intimate account of the contemplative path in all of its wonder, messiness, joy and confusion. In his characteristically clear, witty, and thought-provoking style, Jay weaves a tapestry of wisdom from many traditions, with powerful instructions and practical stories to guide the way. Deeply personal, sometimes humorous, and brutally honest, these self-reflective essays can guide and inspire seekers of all ages.
— Oren Jay Sofer, author of Say What You Mean: A Mindful Approach to Nonviolent Communication
In this record of a personal struggle to find his place in religion, spirituality and culture, Jay has laid down a trail for those who'd follow.  Enlightenment by Trial and Error is an embodied and authentic resource for any young person trying to make thoughtful choices about who — and how — they are in the world. Drawing on Torah, Buddhism, literature, philosophy and theology, Jay's raw and researched struggle to balance sexuality and love, religion and spirituality, culture and politics has given us a personal account of a path blazed with integrity and worth.
— Dan Friedman, co-founder, Zeek: A Jewish Journal of Thought & Culture and author of Shout To Change: Tears for Fears Explained
From closeted recoiling to ecstatic uncoiling, from faithful unraveling to loving unknowing, Enlightenment by Trial and Error is a most textured self-portrait of the quest for Self. Jay Michaelson's essays are not tidy treatises, thank Goddess. They are journalistic investigations of the journey itself, in all its holy weirdness over the course of a decade. And yet, just here—in this life-size effervescence that guides readers to listen deeply but unclingingly—an ineffable answer bubbles up. The early essays, born from frisky honeymoons with contemplative Judaism, shimmer with genuine revelations that come to be relinquished. The later essays beam with such fearless wisdom that they must conclude, "I have absolutely no idea." And all of this breathes new life into Torah. With humor and heresy, depth and insight, Jay's book should be relished and released (and relished again) by all seekers.
— Professor Sam Berrin Shonkoff, Graduate Theological Union