The Heresy of Jacob Frank: From Jewish Messianism to Esoteric Myth
Winner of the 2022 National Jewish Book Award
"Jacob Frank, one of the most unexpected, shocking, original, and misunderstood figures in Jewish history, stirred up the Jewish world from the margins of heresy to the center of broad messianic movement that engaged thousands of followers in the mid-eighteen century, by crossing every traditional border of the Jewish community. Now, for the first time, The Heresy of Jacob Frank provides a groundbreaking book-length analysis of Frank's outrageous and innovative religious ideas, based on close readings of his recorded oral teachings. Dr. Michaelson's brilliant work is a major achievement in the scholarship of Frankism, Sabbateanism and Jewish mysticism, as well as an engaging and surprising tale of a man who transgressed every boundary he came across. Highly recommended."
— Rachel Elior, Professor Emerita of Jewish Philosophy, The Hebrew University of Jerusalem
About the Book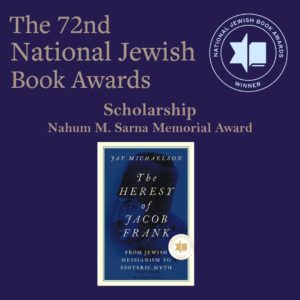 The Heresy of Jacob Frank is the first monograph on the religious philosophy of Jacob Frank (1726-1791), who, in the wake of false messiah Sabbetai Zevi, led the largest mass apostasy in Jewish history. Although he is now little-known, Frank was, in his day, perhaps the most notorious Jew in Europe, widely regarded as a scoundrel and a villain.
Based on close readings of Frank's late teachings, recorded in 1784 and 1790, The Heresy of Jacob Frank presents Frank as an original and prescient figure at the crossroads of tradition and modernity, reason and magic, Kabbalah and Western Esotericism.
Frank's worldview combines a skeptical rejection of religious law as ineffectual and repressive with a supernatural, esoteric myth of immortal beings, material magic, and worldly power.  With close readings of the theological and narrative passages of Frank's teachings, Dr. Michaelson shows how the Frankist sect evolved from its Sabbatean roots and the infamous 1757-59 disputations before the Catholic Church, into a Western Esoteric society based on alchemy, secrecy, and sexual liberation.  Sexual ritual, apparently tightly limited and controlled by the sect, was not a libertine bacchanal but an enactment of the messianic reality, a corporealization of what would later become known as spirituality.
While Frank was undoubtedly a manipulative, even abusive leader whose sect mostly disappeared from history, Michaelson suggests that his ideology anticipated themes that would become predominant in the Haskalah, Early Hasidism, and even contemporary 'New Age' Judaism.  In an inversion of traditional religious values, Frank's antinomian theology held personal flourishing to be a religious virtue, affirmed only the material, and transferred messianic eros into social, sexual, and political reality.
Read the introduction to the book here (courtesy of Oxford University Press)
Purchase on Amazon here:
Related work:
The Allure of the Antinomian … or How Jacob Frank Seduced Me, Evolve, October 2022
The Queernesses of Jewish Heresy: Sabbetai Zevi, Jacob Frank, and the Eros of Hasidism, September 8, 2022:
Conceptualizing Jewish Antinomianism in the "Words of the Lord" by Jacob Frank, Modern Judaism, 2017