Religion and Sexuality (conversation w/Michael Lerner) | Berkeley
Free
at Congregation Netivot Shalom
1316 University Avenue
Berkeley, CA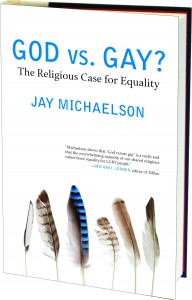 Join Nehirim founder, and author of the new bestseller "God vs. Gay? The Religious Case for Equality," Jay Michaelson, in conversation with Rabbi Michael Lerner of Tikkun.
Our national debates about LGBT equality are much deeper than whether one is for or against "gay rights." They are also about how sexuality is used as an instrument of control, how religious and spiritual people relate to their sacred traditions, and what role religious values should have in our civic life.
For all the dangers — Mississippi branding abortion doctors as murderers, religious-sponsored campaigns of hatred — this may also be an opportunity for progressive-minded religious people to Take Back The Word, and find common cause between LGBT equality issues and questions of economic and social justice.
Come join us for a free, inspiring, and penetrating conversation based on Jay's new book, and share your thoughts, questions, and ideas.
For more information and press inquiries, please contact Ross Schwartz.