Anthologies featuring Jay Michaelson
Jews are a people of law, and law defines who the Jewish people are and what they believe. This anthology engages with the growing complexity of what it is to be Jewish — and, more problematically, what it means to be at once Jewish and participate in secular legal systems as lawyers, judges, legal thinkers, civil rights advocates, and teachers. Jay Michaelson's contribution is called, "Hating the Law for Christian Reasons: The Religious Roots of American Antinomianism." Published June 2014 by Quid Pro.
The Sacred Encounter: Jewish Perspectives on Sexuality
This wide-ranging anthology takes a close look at the breadth of human sexuality from a Jewish perspective. The essays begin with a look at biblical and rabbinic views on sexuality, and then proceed to explorations of sexuality at different moments in the life cycle, sexuality and the marital model, diverse expressions of sexuality, examples of sexuality education, the nexus of sexuality and theology, and the challenges of contemporary sexual ethics. Features Jay Michaelson's essay on "Queering Tshuvah."
Eleven prominent authorities on climate change consider the legal, policy, and philosophical issues presented by geoengineering. The book asks: When, if ever, are decisions to embark on potentially risky climate modification projects justified? If such decisions can be justified, in a world without a central governing authority, who should authorize such projects and by what moral and legal right? If states or private actors undertake geoengineering ventures absent the blessing of the international community, what recourse do the rest of us have? Published August 2013.
Exploring the Edge Realms of Consciousness
A diverse group of authors journey into the fringes of human consciousness, tackling psychic and paranormal phenomena, lucid dreaming, synchronistic encounters, and more. Collected from the online magazine Reality Sandwich, and featuring Jay's essay on Buddhist absorption states, "The Jhanas."
Queer Religion provides a systematic and detailed overview of the challenges and issues that the intersections of religion, same-sex desire, and gender variance have generated, both now and in the past. It focuses upon the development of these areas of overlap through three distinct historical periods: modern religious history, LGBT liberation movements, and the emergence of queer theory and analysis. Published December 2011, it features Jay's scholarly essay "Queering Kabbalistic Gender Dimorphism."
Collective Brightness: LGBTIQ Poets on Faith, Religion & Spirituality
The first anthology of its kind, with poets representing several countries (the United States, Singapore, Korea, Australia, the United Kingdom, India, Malaysia, Japan and elsewhere), Collective Brightness gathers over 100 established and emerging contemporary LGBTIQ poets writing from and about various faiths, religions and spiritual traditions. Published October 2011, including poetry by Jay.
Closets are for dandy clothes but not for gay essays or fiction. In this volume of Best Gay Stories, editor Steve Berman selected confessions and stories that range in scope from "S" — sensational — to "XL" — extra-liberating. Includes Jay's memoir-essay, "Loneliness and the Sanctuary of Spirit." Published November 2010.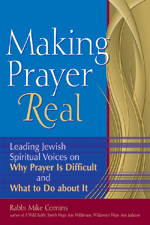 Making Prayer Real: Leading Jewish Spiritual Voices on Why Prayer Is Difficult and What to Do About It
Making Prayer Real is a no-holds-barred look at why so many of us find synagogue services and prayer at best difficult, and at worst, meaningless and boring–and how to make it more satisfying. Rabbi Mike Comins draws from over fifty interviews with Jewish spiritual leaders from all denominations, as well as from their "best prayer practices." Includes an essay and interview with Jay Michaelson. Published in February, 2010.
Torah Queeries: Weekly Commentaries on the Hebrew Bible
Edited by Gregg Drinkwater, Joshua Lesser, David Shneer, Judith Plaskow, Torah Queeries brings together some of the world's leading rabbis, scholars, and writers to interpret the Torah through a "bent lens". With commentaries on the fifty-four weekly Torah portions and six major Jewish holidays, the concise yet substantive writings collected here open up stimulating new insights and highlight previously neglected perspectives.This rich collection includes some of the most central figures in contemporary American Judaism. Featuring commentaries by Jay Michaelson.
The Passionate Torah: Sex and Judaism
Edited by Danya Ruttenberg and released in 2009. Seeking to deepen the Jewish conversation about sexuality, The Passionate Torah brings together brilliant thinkers in an attempt to bridge the gap between the sacred and the sexual. In this unique collection of essays, some of today's smartest Jewish thinkers explore a broad range of fundamental questions in an effort to balance ancient tradition and modern sexuality. Featuring "On the Religious Significance of Homosexuality, or Queering God, Torah, and Israel" by Jay Michaelson.
Editor Lawrence Schimel has brought together a diverse array of poems and voices, not merely in their poetic style and form, but also in how gay subjects and themes are addressed. . Featuring work from 50 gay poets, readers will find herein a mix of established poets and exciting new voices, including Carl Phillips, Rane Arroyo, David Bergman, Timothy Liu, Jay Michaelson, Brad Gooch, Reginald Shepard, Jeff Mann, Steve Fellner, Jee Leong Koh, Steven Cordova, Jericho Brown, and many others.
Edited by Nathan Abrams in 2008, and featuring the essay "Boundaries and the Boundless: Homosexuality as Liminality" by Jay Michaelson
Toward 2012: Perspectives on the Next Age
Edited by Daniel Pinchback and Ken Jordan in 2008. This fresh and thought-provoking anthology draws together some of today's most celebrated visionaries, thinkers, and pioneers in the field of evolving consciousness— exploring topics from shamanism to urban homesteading, the legacy of Carlos Castaneda to Mayan predictions for the year 2012, and new paths in direct political action and human sexuality. Features the essay "Ayahuasca and Kabbalah" by Jay Michaelson.

Signs of the Apocalypse / Rapture
Edited by Christine DiThomas and published in 2008,this timely volume features two visual gallery sections replete with diverse and engaging imagery by over sixty world-class artists. A comprehensive section of writings and transcripts on the notion of end times as well as rapturous themes along with two full-length audio CDs complete the book's presentation. Featuring the poem "for the apocalypse will be infinitely silent" by Jay Michaelson.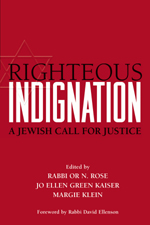 Righteous Indignation: A Jewish Call for Justice
Edited by Rabbi N. Rose, Jo Ellen Green Kaiser, and Margie Klein, and published in 2007, Righteous Indignation gathers the voices of leading progressive Jewish social justice activists for the first time in one groundbreaking volume. Featuring "The Significance of Sex: Social Order & Post-Mythic Religion" by Jay Michaelson.
Charmed Lives: Gay Spirit in Storytelling
A finalist for Best GLBT Anthology for the Lambda Literary Awards, Charmed Lives offers readers a collection of over thirty short works of fiction and personal essays as an alternative to the stories that society often tells about gay men. Some are whimsical with a touch of enchantment, some profoundly spiritual, others romantic–all offer insight into modern gay life that will inspire and shed light on the grace of being gay with tales of hope against adversity and love over loneliness. Includes "The Verse" by Jay Michaelson. Published in 2006.