Booking Information: Bringing Jay Michaelson to Your Community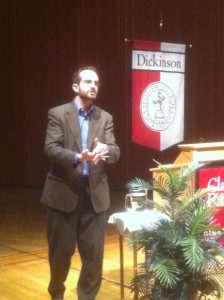 Rabbi Dr. Jay Michaelson is a sought-after keynote speaker, scholar in residence, meditation teacher and panelist.  To contact Jay's team, please click this link to send us an email.
Below are some of the talks Jay has given over the last few years; click each one for a description from a past event.
For a list of representative institutions, click here.  For sample videos, click here.   And for testimonials, click here.
1.   Law, Religion and Politics
Religious Exemptions and Religious Liberty
Religious Freedom, LGBT Equality, and Reproductive Justice: The New Front in the Culture War
Pinkwashing Israel/Palestine: It Isn't Black & White
Antisemitism and Xenophobia in the Age of Donald Trump
A Journalist's Perspective on Freedom in the Age of Alternative Facts — and A Meditation Teacher's Perspective on Staying Sane in the Middle of It
2.  Academic Lectures on Jewish Thought, Law & Religion, and Queer Studies
I'm Just Not That Kind of God: An Introduction to Queer Theology
Homosexuality and Liminality: The Queer Theology of the Boundary Crosser
Queer Activism, Queer Scholarship: Liminality, Identity, and the "Good Gays"   
Harry Hay and the Erotic Dialogical
Polytheism and Nonduality: Integral Kabbalah and the Repersonalization of God
3.  Mindfulness, Buddhism, and Meditation
Meditation Retreats and Instruction. Jay teaches in secular, Buddhist, and Jewish modalities, and has taught both beginners and advanced practitioners.
The Gate of Tears: Difficult Emotions and the Dharma
When Every Mystical State You've Ever Wanted Isn't Enough
Developmental Models in Meditation
Spirituality and Social Justice
4.  LGBTQ Topics
God vs. Gay? The Religious Case for Equality  (Taught at over 75 churches, synagogues, and universities)
Global Equality? Bringing an International Lens to LGBTQ Activism
God, Gender and Justice: A non-oppressive sexual ethic in the shadow of religion
The Spirituality of the LGBT Movement: Why "Gay Rights" is a Spiritual Opportunity.
I'm Just Not That Kind of God: An Introduction to Queer Theology
5.  Judaism and Jewish Spirituality
iSpirituality: Or, How I Learned to Stop Worrying and Love 21st Century Judaism
Pinkwashing Israel/Palestine: It Isn't Black & White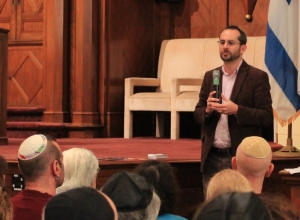 Multiple Narratives: How to Talk about Israel/Palestine on Campus
The Gate of Tears: Sadness and the Spiritual Path
God Does Not Exist, God is Existence Itself: An Introduction to Nondual Judaism
Holy Heresy: Jewish Heretics from Jacob Frank to Jewish Renewal
Beyond Leviticus: Queering God, Torah, and Israel  
God in Your Body: Kabbalah, Mindfulness, and Embodied Spiritual Practice
Is Spirituality Bad for You?: The Staroselse-Lubavitch Controversy
"When Jay comes to speak he really comes to connect. He's as compelling discussing the latest trends in the political fight for LGBTQ rights as he is lucid (and fun!) while leading a graduate seminar on comparative mystical non-dualism. But my favorite time with Jay was when I got to pick his brain between events.
—   Professor Michael Alexander, UC Riverside
"Jay Michaelson writes and gives presentations with wisdom and wit about diverse ramifications of the dharma.  He accepts with an open mind the whole gamut, ranging from serious Buddhist monastics to internet gurus and enterprising promoters of mindfulness.  I especially resonate with his honest account about inner experiences on prolonged meditation retreats."
— Ginger Clarkson, Community Dharma Leader, Insight Meditation Houston
"I had the opportunity to have Jay visit our sangha last month and give a dhamma talk. We have a small space, but it was filled to capacity and then some that evening. It was such an honor and privilege to have him amongst us in our little group. His talk and his presence was such a great experience for us as we do not have many teachers or speakers visit us often. So his offering to speak and sit with us was something worthwhile. All of us benefitted from his wisdom and sharing. We thank you Jay and welcome you back to sit with us anytime."
— Quincy Pittmon, Insight Chicago
"Thank you so much for your book, for your talk – for bringing such insight, compassion, and real thoughtfulness to a topic that is attacked so often with the most shallow sort of mindlessness.  Your willingness to bring all of your Jewishness to bear on the subject, and explore what underlies so much of the conversation was intellectually refreshing."
— Celeste Aronoff, Jewish Family Services of Greater Kansas City
"Jay is one of those remarkable public thinkers who can, in the same extemporaneous breath, make people laugh and think harder than they have in a long time. He communicates profound knowledge of text and tradition, both inside and outside Judaism, but with disarming ease and approachability. He took our community across borders we didn't know we had drawn and helped us see big pictures we didn't know we were standing in front of. Learning with him was without question one of our peak experiences."
— Michael Getty, Central Reform Congregation of St. Louis
"Jay Michaelson riveted a a group of about 70 Yale undergrads, Jews and others,  as he spoke with clarity, love, gentle honesty and wide erudition about the challenges of living with fidelity to a religious, scriptural tradition while being committed to personal integrity.  Students, gay and straight, were moved, inspired, challenged.   Jay is a deep loving Jew, a religious philosopher, practitioner and activist who is generous with his wisdom and his person.  He embodies what he teaches, a commitment both to change this world and live well within it, a  commitment to the cultivation of spirit and soul without abandoning self hood and geopolitical responsibility.  I see in him a keen expression of the most hopeful evolution of the Jewish people and humanity."
— Rabbi James Ponet, Yale University Hillel
"Jay Michaelson is a rare and gifted teacher.  He inspires while keeping his students grounded, instills a creative atmosphere while expecting and embodying the utmost academic rigor.  This last part is particularly essential in the college course I took from him on Kabbalah, a subject replete with hearsay and romantic sentimentality.  Professor Michaelson easily stayed out of this territory while holding the rapt interest of his students.  During his lectures, Professor Michaelson created an atmosphere at once receptive and critical.  I still recall his lecture on the story of Rachel, and how he led us just to the point of insight, then stepped back and made us think and claim that insight as our own.  He would invoke historic texts, and to illustrate their meaning he would conjure examples that created a personal dimension to them, somehow, for most of us."
— Roman Palitsky, former student
"Several students of mine attended your lecture only because I asked and really did not have a strong interest on the topic.  They were REALLY very surprised how much they got from the presentation.  And how much they really enjoyed it because it was not what they expected it to be.  One player, (gay and not into religion or faith at all) said she was surprised about what she learned about the Bible that she did not know.  She has never been to church or ever done any scripture reading.  It made her pause and reflect on her thoughts on religion.  One player who grew up with a strong Catholic upbringing and fearful of anything religious being preached at her actually found herself enjoying the conversation on faith and sexuality.   She left the presentation so glad she went and it was nothing like what she thought it was going to be.   Jay most definitely touched the hearts and minds of a very diverse population.  THIS IS IMPRESSIVE, POWERFUL, and MAKING A DIFFERENCE."
— Kirk Walker, Oregon State University
Academic Appointments

Chicago Theological Seminary (Affiliated Assistant Professor)
Brown University (Visiting Scholar)
Harvard Divinity School (Field Education Supervisor)
Boston University Law School (Visiting Assistant Professor; Environmental Ethics, Law & Religion)
City College of New York (Adjunct Professor, Kabbalah)
Yale University (Instructor, Jewish Mysticism college seminar)
Academic Lectures and Presentations
SUNY New Paltz, Antisemitism and Xenophobia in the Age of Donald Trump, October 2017
Chicago Theological Seminary, Castaneda Lecture, Queering Jewish Theology, May 2017
University of Pittsburgh, Lectures on Frankism; Queer Theology; and Religious Exemptions, February 2017
American Academy of Religion, A Revisionist View of Same-Sex Marriage, November 2016
American Academy of Religion, The Scholar-Practitioner, November 2015
University of Arkansas Law School, Religious Exemptions and Civil Rights, April 2015
Boston College, The Meditation Revolution and the Western Dharma, April 2015
Association for Jewish Studies, What is the Meaning of Frankist Sexual Antinomianism?, December 2014
American Academy of Religion, Queer Theology and Social Transformation, November 2014
Columbia University, Jacob Frank: A Revisionist View, November 2014
Int'l Symposium for Contemplative Studies, Can There Be a Jewish Contemplative Studies?, October 2014
Pacific School of Religion, Boswell Lecture, Queer Theology and Social Transformation, April 2014
Yale Law School, Religious Refusals: The New Front in the Culture War, January 2014
Association for Jewish Studies, Was Frankism the Link Between Kabbalah and Enlightenment?, December 2013
Brooklyn Law School, Religious Freedom and Equal Treatment: An International Look, October, 2013
Association for Jewish Studies, Frankism as Skeptical Antinomianism,  December 2012
City University of New York, The Erotic Dialogical: Harry Hay in the Light of Martin Buber, October 2012
Van Leer Institute, Rabbi Professor: Neo-Hasidism as Spiritual Bricolage, June 2012
Michigan Psychological Association, Homosexuality, Law, and Religion,  2012
Reconstructionist Rabbinical College, Bunis Lecture, Queering God, Torah & Israel, 2012
American Academy of Religion, Queering Kabbalistic Gender Dimorphism,  2011
Pacific School of Religion, Queer Activism & Queer Scholarship, 2011
Vanderbilt University, Liminality, Identity, and the 'Good Gays,' 2011
Academy of Jewish Religion, Embodiment in Jewish Practice,  2009
American Academy of Religion Annual Meeting, Vedanta & Neo-Hasidism, 2007
Cardozo Law School, Jews and the Legal Profession Conference, Anti-legalism and anti-Judaism, 2006
Lehigh University, New Jewish Culture, Queer Midrash, 2006
Manhattan Marymount College, Judaism & Sexuality, 2005
Drew University, Kabbalah and Eros, 2004
Scholar in Residence (Jewish institutions)
Judea Reform Congregation, Durham, NC, November 2017
IKAR, Los Angeles, February 2017
Vassar Temple, March 2016
Temple Sinai, Stamford, CT, January 2016
KAM-Isaiah Israel, October 2015
Temple Emunah, Lexington MA, January 2015
Temple Sharei Tefilo-Israel, South Orange NJ, December 2014
Temple Israel Miami, December 2014
Temple Israel Boston, November 2014
Bates College, October 2014
Congregation Netivot Shalom, Berkeley, CA, April 2014
Middlebury College, November 2013
Lakeside Congregation, Highland Park, IL, November 2013
Congregation Beth Simchat Torah, New York, NY, March 2012
University of Chicago Hillel, February 2012
Beth Israel Center, Minneapolis, MN, December 2011
Jewish Community of Amherst, MA, May 2011
Temple Beth El, Stamford, CT, April 2011
Shir Tikvah, Minneapolis, MN, April 2011
Limmud New York (invited presenter), Jan 2011
Jewish Theological Seminary Rabbinic Training Institute, Jan 2011
Bet Alef Synagogue, Seattle, WA, Nov 2010
Beth El Temple, Harrisburg, PA, May 2010
Academy for Jewish Religion, Nov 2009
Easton Mountain Retreat Center, Greenwich NY, 2009
Temple Israel of Natick, Feb 2008
Congregation Dorshei Emet, Montreal, Nov 2007
Congregation Bet Haverim, Atlanta, GA, March 2007
Congregation Kol Ami, Tampa, FL  Feb. 2006
Wexner Heritage Foundation, August 2004
Meditation Retreats and Dharma Centers
Hazon Jewish Meditation Retreat, 2015, 2016, 2017
Jhana and Insight Retreat, Barre Center for Buddhist Studies, 2017
Woodenfish Forum on Buddhism and Technology, 2017
Jhana Retreat, Garrison Institute, 2016
Zen Center for Contemplative Care, 2016
Insight Chicago, 2016
Dharma Punx NYC, 2015
Jhana Retreat (Assistant), Tri-State Dharma, 2015
New York Insight, 2015
Jhana Retreat (Assistant), Barre Center for Buddhist Studies, 2014
Against the Stream Meditation Center, 2014
Insight Meditation Houston, 2013
Other Workshops and Lectures (selected)
National LGBT Journalists Association, 2013, 2016
Alchemists Kitchen NYC, 2016
ALEPH Kallah, 2016
Isabella Freedman Jewish Retreat Center, 2009-present
East-West Festival NYC, May 2016
JCC Manhattan, 2016
Beacon Hebrew Alliance, 2016, 2018
Jewish Federation of Collier County, 2016
Limmud Toronto, 2016
Easton Mountain Retreat Center, 2005-15
Arlington Street Church, 2015
Temple Israel Sharon MA, 2015
National Museum of American Jewish History, 2015
Hebrew Union College, 2015
Metropolitan Community Church, 2015
Union Theological Seminary, 2015
Institute for Jewish Spirituality, 2015
ACLU of Arkansas, 2015
Congregation Rodeph Sholom, 2014
Barre Center for Buddhist Studies, 2014
Temple Emanuel of Beverly Hills, 2014
Suffolk University Law School, 2014
Union College, 2014
J Street U, 2014
Congregation Adas Israel, 2014
Hebrew College, 2014
Temple Beth Zion, 2014
Gratitude NYC, 2013
Rubin Museum, 2013
J Street Conference, 2013
World Congress of GLBT Jews, 2013
University of Pennsylvania Hillel, 2013
Nehirim, 2005-13
UNC-Asheville, 2013
Creating Change Conference, 2011-13
JFNA General Assembly, 2012
Boston University Hillel, 2012
Congregation Shaar Zahav, 2012
Tufts University Hillel, 2012
Michigan Psychological Association, 2012
College of William & Mary, 2012
Colgate University, 2012
SUNY Binghamton, 2012
Limmud Colorado, 2010
Limmud UK, 2009
Empire State Pride Agenda, 2005
New York LGBT Center, 2005
Performances and Readings
Abrons Arts Center
92nd Street Y
Burning Man
New York University
Mysteryland Festival
Knitting Factory
CBGB
Bowery Poetry Club
Giovanni's Room
Tmol Shilshom
Gay Spirit Culture Summit
National Havurah Institute
Limmud Colorado, Limmud UK
JCC in Manhattan